Or not, since school started up again for me yesterday.
Is that an awkward sentence or what? Ahem.
Yes, here I am, back in school again. Still. Whatever. I'm trying to get through a sign language interpreting program so I can get certified and do medical interpreting. I'm not sure why this fascinates me so much, but I got an EMT and did medical assistant training so I'd know something about the field. I may be crazy, but I love sign, when I get into it. Getting back into the scene is tough, though. Have to work on that. I also have to videotape myself a lot this semester. Eek!
Writing proceeds apace. A real pace. I'm making my quota, which suddenly feels like not enough, but man, sometimes it's a struggle to get there. Which makes me think I'm writing in the wrong direction, but I want to get this stuff down on paper. I can fix later. And I don't really have the time to start over, so, onward!
Speaking of which, I'm moving onward to do some promotion for Gena Showalter's next book. She's got the best covers! Check this out:
----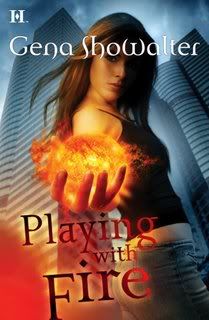 Playing With Fire by Gena Showalter
Earth, Wind and Fire aren't just a band anymore…
Used to be my greatest achievement was holding a job more than three days. Now suddenly I can shoot fireballs, chill your drink, or blow-dry your hair at fifty paces with a blink of my eye!
It all started when this crazy scientist dropped something in my grande mocha latte. Of course I got wicked sick. Next morning I'm waking up with this total hottie bending over me. He tells me 1) his name's Rome Masters, 2) he's a government agent and 3) I can control the four elements with a thought.
He seems even less pleased by my (apparently irreversible) transformation that I am. . . because now he's supposed to kill me. The only good news: I didn't make this bed of trouble, but Rome sure seems to want me to lie in it. With him.
Read an
excerpt
Order your copy from
Barnes and Noble
or
Amazon
or
Books A Million
And if you'd like a chance to win signed copies of *all* Gena Showalter's books, all you have to do is post this entry, too. Post the cover, the blurb, the links, and this contest announcement, then head over to Gena's blog
(http://www.genashowalter.blogspot.com )
and let her know you posted the material. A name will be randomly selected on September 3rd from those who do!!